Tombs outside Pompeii walls and in the suburbs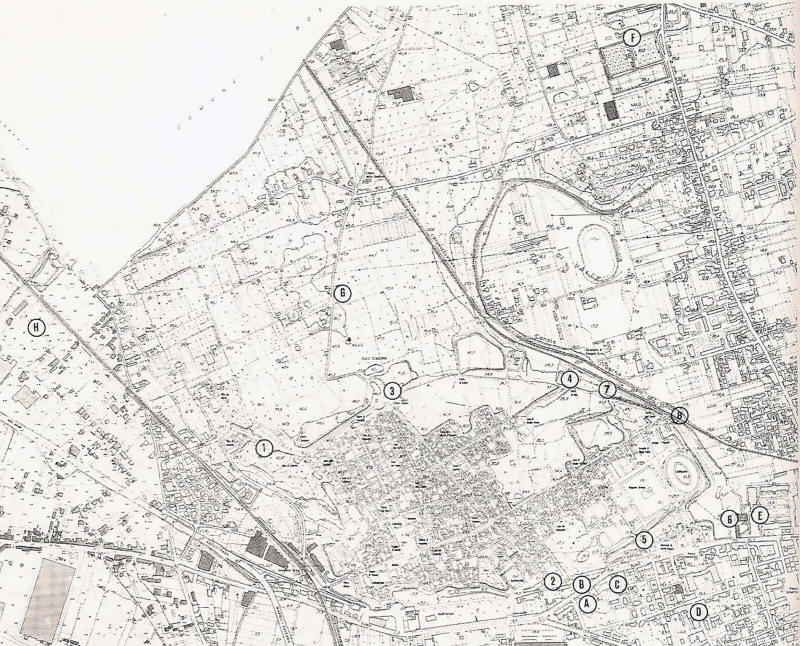 Plan of tombs located outside the Pompeii city walls, after Stefani 1998, updated for later finds.
See Pompei Oltre la vita, SAP Exhibition, 1998, p. 90.
Each tomb area has a specific page on our site with information and photographs.
If your screen is large enough (more than 853px wide) press the tomb letter you want on the plan to see the pictures.
If you are on a smaller screen such as a phone or tablet you can use the links below to see the pictures.
Note: The research by Alison Emmerson, 2010, suggests slightly differing locations for some tombs around Porta Stabia. See Necropoli di Porta Stabia page.
Unfortunately we do not have pictures for locations B and F at present.
1= Necropoli di Porta Ercolano
- Herculaneum Gate Tombs on the Via dei Sepolcri
- Stabian Gate Tombs
2= Necropoli vicino Porta Marina scavate 1754-7
- Porta Marina Tombs excavated by Weber 1754-1757
- Vesuvian Gate Tombs
- Nola Gate Tombs
- Nocera Gate Tombs on the Via delle Tombe
6= Necropoli di Fondo Pacifico
- Fondo Pacifico Tombs
7= Cremations between Porta di Sarno and Porta di Nola
- Cremations and inscriptions on walls between Sarno Gate and Nola Gate
8= Necropoli di Porta di Sarno
- Sarno Gate Tombs
- Fondo Santilli Necropolis (200m from Porta Stabia)
B= Tombe presso la Strada Regia
- Tombs near Strada Regia.
- In the Fondo Santilli, more towards the city, immediately south of the road, at the meeting point of the old and the new road.
- Tomb at Fondo Squillante
D= Necropoli del Fondo Azzolini
- Fondo Azzolini Necropolis (500m from Porta Stabia towards Porta Nocera)
- Tomb at Fondo Prelatura
F= Tomba e villa in località Cimitero
- Tomb and villa in location of the Pompeii cemetery
G= Monumento Funerario del Fondo Prisco
- Tomb at Fondo Prisco
H= Tomba degli Ancarsuleni, Tomba nei pressi cabina ENEL,
- Tomb of Publius Ancarsulenus Philadelphus and Ancarsulena Eleutheris
See Stefani, G., 1998. Pompei oltre la vita: Nuove testimonianze dalle necropoli, p. 90ff.
K133= Scafati. Elongated burial area with a grave structure and adjoining dirt road
Scafati excavated at a level crossing of the Circumvesuviana now replaced by an overpass.
Not on plan
See Kockel V. Funde und Forschungen in den Vesuvstadten 1: Archäologischer Anzeiger, Heft 3. 1985, abb. 23 Nr 133,  p. 543-4.